It's almost one month until my new book comes out! So, to thank readers who pre-order 

 THE FALLING BETWEEN US

(a contemporary mystery and bittersweet romance about a rock star who vanishes)- I have book-goodies for everyone who pre-orders AND one lucky person will win the grand prize!  
(Guitar not included in the pre-order or grand prize, sorry! )
PREORDER

THE FALLING BETWEEN US

THRU THE LINKS BELOW or

THROUGH YOUR LOCAL INDIE!
WHAT YOU'LL RECEIVE:
 
*A set of 6 character cards –each featuring a character from   
The Falling Between Us
*A Bookmark
*A Signed Bookplate
IN ADDITION! – from the pre-order entries I receive, ONE LUCKY WINNER will be selected at random to win THE GRAND PRIZE!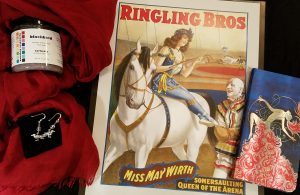 THE GRAND PRIZE CONTAINS:
* One pair of blackbird earrings (sterling silver) for you or a friend
* Paintbox Soapworks  Blackbird Sorbetto Emulsifying Sugar Scrub  (11oz) – (OMG I love Paintbox Sugar Scrubs! This scent is divine and gender-neutral.)
(above, of course, to reflect main character, rock star Joshua Blackbird!)
AND ALSO
* 1 Circus Showgirl Paperblanks mini writing journal
* 1 Frame-worthy reproduction circus poster (11×14) – featurning MAY WIRTH from my Friday twitter series #CircusCrush (check it out starting 2/2/18! May is our first crush!)
(above reflecting main character Roxy Stewart's love for the vintage circus!)
RULES & HOW TO ENTER:

Pre-Order goodies available only WHILE SUPPLIES LAST! (so don't delay!)
*The PRE ORDER CAMPAIGN is open internationally (cards, bookmark, bookplate)– WHILE SUPPLIES LAST!
*PRE-ORDER GRAND PRIZE also open internationally! (although the sugar scrub might not make it – depending on international shipping regulations)
*To enter – Email your NAME, MAILING ADDRESS, and THE FALLING BETWEEN US PRE-ORDER RECEIPT IMAGE /Screen-shot/proof of purchase to: ash(at)ashparsonsbooks(dot)com  Receipt *must show* valid purchase!
*Preorder Campaign goodies will be mailed out on a rolling basis while supplies last! (until 3-13-18)
*The grand prize winner will be chosen at random & notified by email on The Falling Between Us release day, 3-13-18. —EDITED!!!NOPE!!!!  CHANGE OF PLAN – I forgot I would be traveling on release week!  The GRAND PRIZE WINNER will be chosen at random and notified by email on FRIDAY, MARCH 16th!
Thanks!!!